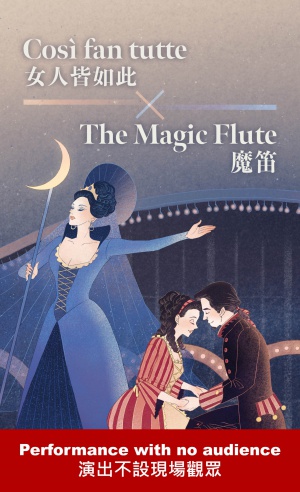 TICKET REFUND for Così fan tutte x The Magic Flute: Abridged Versions of Operas by Mozart
Due to temporary closure of LCSD performing venues from 2 December 2020, the performance of Così fan tutte x The Magic Flute on 4-5 December at Auditorium, Tuen Mun Town Hall will be conducted with no audience. The performance will be recorded and shared online later.
Ticket holders (except schools) please refer to the following ticket refund arrangement:
Ticket holders please download a "Ticket Refund Application Form" via this link: CLICK HERE

The completed "Ticket Refund Application Form" should be sent together with the ticket(s) including the stubs to Opera Hong Kong office at 1907 Pacific Plaza, 410 Des Voeux Road West, Hong Kong on or before 29 January 2021. Please mark "TICKET REFUND" on the envelope and make sure you keep a copy of the form and the tickets for your own record. To avoid unnecessary delay in delivery, please ensure sufficient postage has been paid before posting.

For patrons who booked online or via telephone and had not redeemed your ticket(s), please roll out your ticket(s) using the same credit card as you made the order at any Ticket Dispensing Machines (TDM) located at the following network before 22 January 2021: https://www.cityline.com/Tdm.do?lang=en_US

Please note that Handling Charge is NOT refundable.

Ticket Refund Application has to be done on or before 29 January 2021. Late application will not be accepted.

Opera Hong Kong will send you a Confirmation Email upon receipt of your application. It will take about 2-3 months to process your refund application from the date of receipt. Refund will be made by crossed-cheque.
If you have any questions, please call us at 2234 0303 during office hours or send email to us at enquiry@operahongkong.org. Thank you once again for your support!