Regarded as Puccini's most melodious opera, Madama Butterfly is a perfect amalgam of eastern culture and traditional western opera. Opera Hong Kong joins forces with Slovene National Theatre Maribor to present this magnificent production of the heart-wrenching love story. Performed by the most sought-after singers from Asia and Europe in a traditional setting, the production will turn the entire stage into Butterfly's house in Nagasaki with scenes created by spectacular modern visual effect.
Tickets are available from 25 August.
Date: 6-10/10/2021
Time: (Wed-Sat) 7:45 pm, (Sun) 3:00pm
Venue: Grand Theatre, Hong Kong Cultural Centre
CLICK HERE to view the details.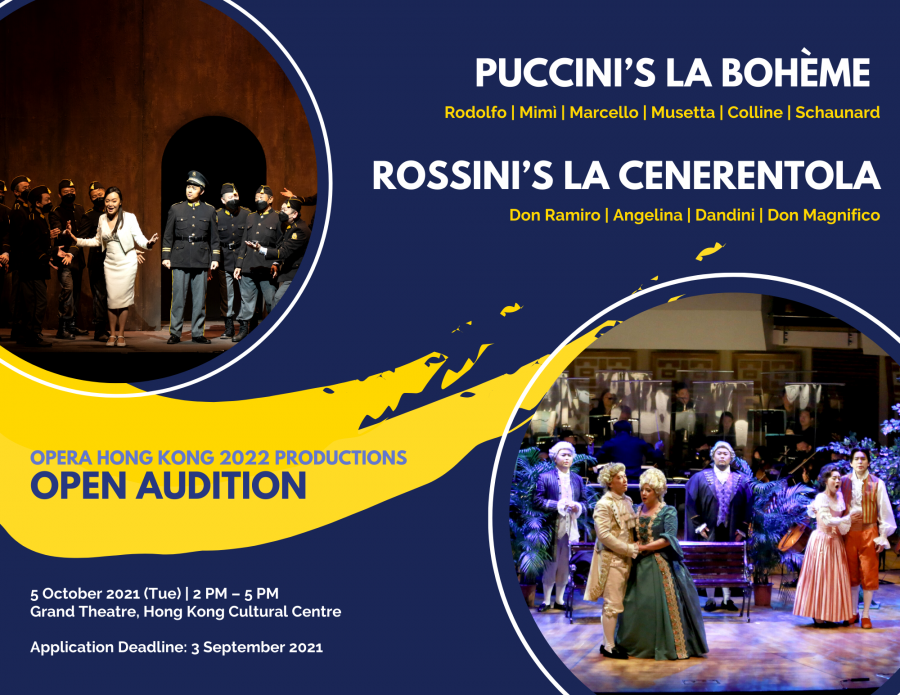 Opera Hong Kong will be presenting Puccini's La Bohème on 5 – 8 May 2022 and Rossini's La Cenerentola on 13 – 14 August 2022, and the following roles are now open for audition with following details:
Audition:
Date: 5 October 2021 (Tuesday)
Time: 2:00pm – 5:00pm
Venue: Grand Theatre, Hong Kong Cultural Centre
Application Deadline: 3 September 2021 (Friday)
Eligibility and Application:
– Candidates should be a Hong Kong resident or currently residing in Hong Kong, and have past leading role performance experience on stage presented by any organizers and a music degree or above qualification. Candidates should prepare any one of the pieces sung by the characters in the opera only for the audition. Accompanist would be provided.
– Interested parties please register with Ms. Shirley Tam via email (shirleytam@operahongkong.org) together with your CV and photograph. Please indicate the role you apply for, the audition piece and your preferred timeslot (2:00pm, 2:30pm, 3:00pm, 3:30pm, 4:00pm, 4:30pm).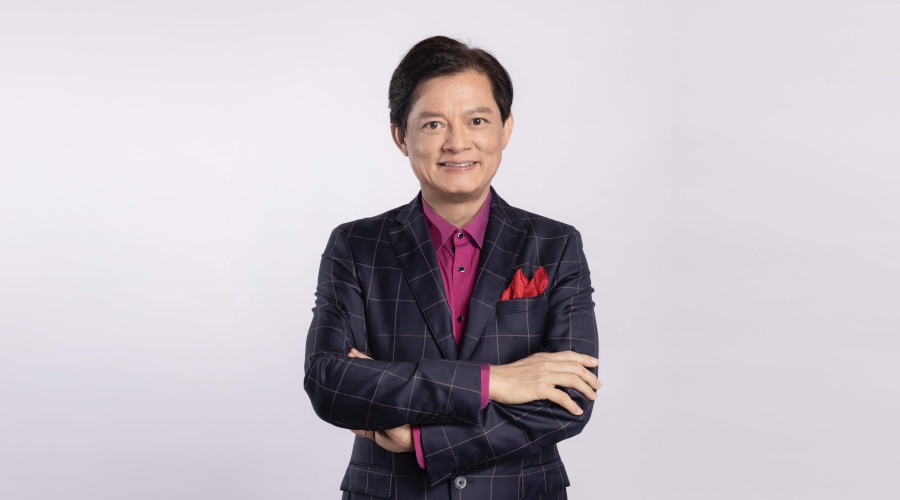 Congratulations to our Artistic Director Mr. Warren Mok! According to the 2021 Honours List announced by the Government of the Hong Kong Special Administrative Region today, Mr. Mok is awarded the Bronze Bauhinia Star (BBS) in recognition of his great contribution to the development of opera art in Hong Kong. The presentation ceremony will take place at Government House later.
Since his European début in 1987 at the Deutsche Oper Berlin, Mr. Mok has become a world-renowned Chinese tenor and made his guest appearances in many leading opera houses throughout the world. He has actively promoted operatic art in Hong Kong, the Mainland China and Macau over the years. Mr. Mok founded Opera Hong Kong in 2003 and has become its Artistic Director since then.
Derived from the same 1530 Italian novella as Shakespeare's Romeo and Juliet, Bellini's opera I Capuleti e i Montecchi packs all the romantic tragedy into the lovers' final 24 hours. Although the drama in the familiar story tracks the very real political violence that roiled medieval Italian cities, the undertone of melancholy is belied by the aching beauty of Bellini's gloriously melodic music.
Tickets are available from 16 July.
Date: 27 & 29/8/2021 (Fri & Sun)
Time: 7:30 pm
Venue: Concert Hall, Hong Kong City Hall
CLICK HERE to view the details.
Thanks to the generous support of The Hong Kong Jockey Club Charities Trust, Opera Hong Kong has initiated a half-year online opera training programme for the visually impaired people. Participating beneficiaries will receive face-to-face or online vocal training by professional opera coaches. In addition to learning the Bel Canto singing skill and the knowledge about the art form, the programme hopes to empower them to face adversity through artistic achievement. After the 15-20 weeks of training, the participants will perform a series of choral works with the accompaniment of a chamber orchestra, which will be filmed and produced as a short concert video.
CLICK HERE for more information.